In the last century, some legendary pieces of furniture were created, which went down in the history of design. These are pieces that are top notch both in terms of shape and build quality. Always recognizable, modern, eternal.
The iconic Lounge Chair, designed by the Los Angeles design tandem Charles and Ray Eames, certainly takes pride of place. They made it in 1956 as a fiftieth birthday present for their friend, director Billy Wilder. When they first introduced it, it was unmatched, and it still is today. We often come across him in design magazines, we know him from movie apartments, as he appeared again and again in various scenes. Which was no accident. The Eameses had many celebrity friends who admired their work and regularly incorporated their pieces of furniture into theater productions, Hollywood films and their luxury homes.
Charles and Ray met at the prestigious Cranbrook Art Academy in Michigan, where they studied. After graduation, they moved to Los Angeles and established their own studio. They started experimenting with cheap materials like plastic and plywood. Their vision was to make furniture that could be mass-produced and accessible to everyone.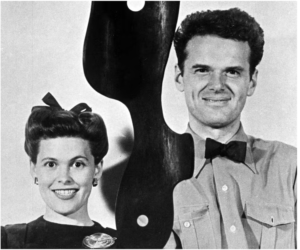 The Lounge Chair was Eams' first attempt to create a luxury item that would become part of an heirloom and be passed down from generation to generation. Their modern take on the classic 19th century English club chair has not only endured for decades, but has become one of the most important furniture designs of the 20th century – recognizable and always fresh.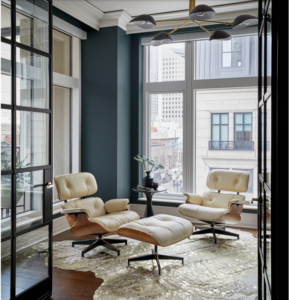 To make the frame, they used the bent wood technique, which was pioneered by the Eames studio with their Kazam machine for pressing thin veneer panels. The seat and backrests are made of three plywood shells. They are upholstered in luxurious and flexible leather. The rest stands on a star-shaped aluminum base and can rotate in different directions. It is kept company by a matching rootstock.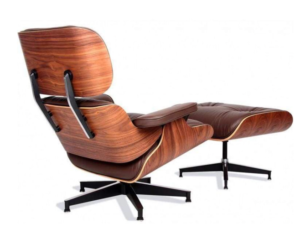 The Lounge Chair combines the tradition of craftsmanship at the highest level and unsurpassed comfort, which is ensured by a unique ergonomic design that adapts to each user. It is made of the highest quality materials that ensure long-lasting functionality and are pleasant to the touch. For more than fifty years, the recliner has remained virtually unchanged and is synonymous with old-fashioned luxury, elegance and timelessness. There aren't many pieces of furniture that can boast a place in a modern gallery, however, the Eames lounger is one of them.