More and more people are turning to the Scandinavian style in the world of interior design, which expresses minimalism, functionality and elegant simplicity. Scandinavian design is reflected in various aspects of interior design, including the extremely popular Scandinavian chairs. These chairs are not only comfortable and practical, but have also become a fashion accessory that brings a modern and fresh atmosphere to the home.
Scandinavian chairs are known for their unique design that combines clean lines, natural materials and minimalist silhouettes. They are often made of light wood materials such as beech or oak, which emphasizes their simplicity and natural touch. In addition, they often have clean, geometric shapes that fit perfectly into modern spaces.
One of the key features of Scandinavian chairs is comfort. They are designed to provide ergonomic support and comfort while sitting. Their seating surfaces are usually upholstered with quality textile materials, such as soft wool or durable canvas, which add to the chair's comfort and visual appeal. Comfortable armrests and padded backrests also provide additional comfort and aesthetic appeal.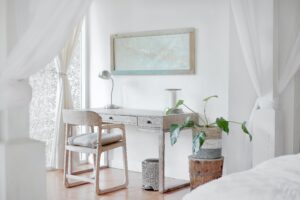 In addition to comfort and aesthetics, Scandinavian chairs are also extremely functional. Most models are designed to fit into a variety of interior spaces, from dining rooms to living rooms and offices. Their simple but elegant design allows them to be harmoniously integrated into different style concepts and adapt to different environments. Scandinavian chairs are also portable and can be easily moved around the room, allowing the arrangement and use to be adjusted according to the needs of the user.
The fashion influence of Scandinavian chairs extends beyond their functionality. Due to their popularity and recognition in the world of interior design, Scandinavian chairs are becoming an important element in the design of trendy homes. Lovers of the Scandinavian style often use them as a key accent in the room or as a contrast to other decorative elements. With their refined simplicity and modern design, Scandinavian chairs bring freshness, elegance and minimalist aesthetics to the home.
More and more designers and manufacturers are also emphasizing the sustainable nature of Scandinavian chairs. The use of natural materials such as wood and wool, together with high-quality workmanship, allows these chairs to last a long time. A sustainable approach to design is an important aspect of Scandinavian design that appeals to those who appreciate environmentally friendly and sustainable products.
Scandinavian chairs have become a popular fashion accessory for the modern home, combining functionality, comfort, aesthetics and durability. Their simple yet sophisticated design has become iconic and matches many interior styles. If you want to refresh your home and add a touch of Scandinavian design, Scandinavian chairs are an excellent choice that will surely charm your guests and create a pleasant atmosphere in the room.