We present a modern designed residential neighbourhood located in a quiet and sunny location in the center of Polzela. The location is surrounded by grassy areas, which, together with surrounding agricultural land and forests, offer accessible opportunities for recreation. Quick access to the highway allows for uninterrupted mobility. In the first phase of construction, the neighbourhood will offer a range of 30 apartments of various sizes, which will offer a quality and comfortable life to individuals, couples and families.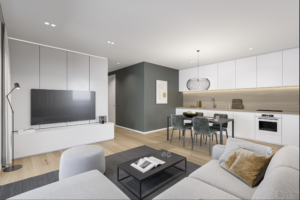 The apartments will have a sophisticated design and functional layout. The building will have four floors, the ground-floor apartments will offer additional comfort with thoughtfully designed atrium. The 30 apartments have floor plans ranging from 38.06 m2 to 77.21 m2 of living space and outdoor areas in the form of balconies and atriums. It will be possible to buy two-room or three-room apartments.
Each apartment will have one or two parking spaces in the basement and a share in the common bicycle storage room on the ground floor of the building.
The apartments are sold unfurnished. They will be ready for occupancy by the end of 2024.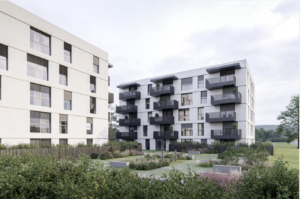 All descriptions, visualisations, commercial sketches, square footage and other documentation are in preparation and are not final. Therefore, the investor reserves the right to make changes. Official sale and purchase will be possible after obtaining the general conditions of sale, when the legal conditions for concluding sales contracts according to Article 5 of the Protection of Buyers of Apartments and Single Occupancy Buildings Act have been met.
If you are interested, please contact us; Agent Andrej Štebal, Tel: 00386-40-626-212, E-mail: astebal@bazarealestate.com.
You are cordially invited to a consultation.