In the 20th century, modern art was shaped by several styles of avant-garde art. While many of these genres—including subconscious-based Surrealism and Abstract Expressionism—predominantly favoured paintings, the Bauhaus movement encompassed a wide range of media, materials, and disciplines.
Bauhaus art, from paintings and prints to architecture and interiors, dominated many places of experimental European art in the 1920s and 1930s. Although most closely associated with Germany, Bauhaus art has attracted and inspired artists from all backgrounds. Today,  influence of Bauhaus can be found in art and design around the world, whether inside museum walls or on suburban streets.
Bauhaus – literally translated as "building house" – originated as a German school of art in the early 20th century. Founded by Walter Gropius, the school eventually transformed into its own modern art movement, characterized by a unique approach to architecture and design. Today, the Bauhaus is known for both – its unique aesthetic, which inventively combines fine art with arts and crafts, and for its lasting influence on modern and contemporary art.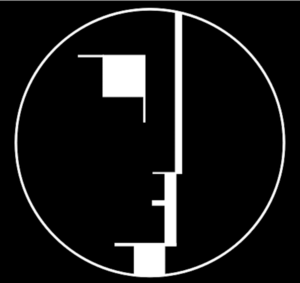 The Bauhaus Logo (Photo: Wikimedia Commons)
In 1919, the German architect Walter Gropius founded the Staatliches Bauhaus, a school designed to unite all branches of art under one roof. The school functioned as a center for experimental creators in Europe, where famous artists such as Josef Albers, Wassily Kandinsky and Paul Klee offered their expertise as instructors.
Bauhaus existed as an educational institution in three cities – Weimar (1919 to 1925), Dessau (1925 to 1932) and Berlin (1932 to 1933).
Weimar was the place where Gropius laid the foundations for the arrival of the Bauhaus; there he established ideals that would have been considered visionary for the time. According to his manifesto and program, art should have a social role and should no longer be divided into craft disciplines.
Dessau is considered the heyday of the Bauhaus movement. Gropius also designed and built the famous Bauhaus building here. This iteration of the Bauhaus was dissolved on September 30, 1932. Berlin was the last phase of the Bauhaus. Little work was done during this time due to increasing pressure from the Nazis and dwindling funding. The move to Berlin took place after the closure of Dessau, and in October 1932 the masters and students of the Bauhaus regrouped from the abandoned telephone factory. The Bauhaus style is usually characterized as a combination of the Arts and Crafts movement with modernism, evident in its emphasis on function and, according to the Tate, its "aim to bring art back into contact with everyday life." Thus, typical Bauhaus designs—whether seen in painting, architecture, or interior design—contain little ornamentation and focus on balanced forms and abstract forms.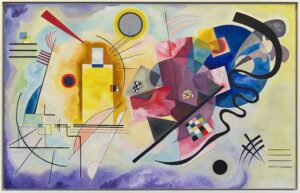 Yellow-Red-Blue (1925) by Wassily Kandinsky (Photo: Musée national d'art moderne via Wikimedia Commons)
In art, this emphasis on function is evident in the balanced compositions of abstract paintings by Bauhaus artists such as Wassily Kandinsky and Paul Klee. Undoubtedly inspired by architecture, paintings usually combine flat planes with overlapping shapes to suggest dimensionality. In addition to paintings, artists often produced abstract sculptures, avant-garde collages, and modernist posters with bold typography and colour blocks.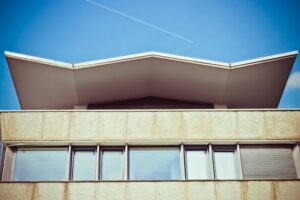 Photo: MichaelGaida
Similar to Bauhaus art, architecture in this style is characterized by harmoniously balanced geometric shapes and emphasized functionality. With open floor plans and lots of glass, it's inspired by the simple yet polished look of the American Arts and Crafts movement—a genre popularized by master architect and Prairie School pioneer Frank Lloyd Wright. In addition, this modern architectural movement heavily inspired the look of mid-century modern homes, which borrowed the clean lines and functional design of Bauhaus buildings. Today, the Bauhaus movement is often referred to as the catalyst for modern architecture and interior design. Some buildings – including the UNESCO World Heritage-listed Bauhaus Dessau – have been turned into tourist destinations and house museums, while many major contemporary art museums include the artworks in their permanent installations and popular exhibitions.