Do you want your dream house to be built sustainably, have a low carbon footprint, enable quick occupancy and give the feeling of living in a natural environment? All these and many other advantages are offered by a prefabricated house.
The quality of prefabricated construction is hampered by the fact that most of the construction takes place in production halls, which are subject to a strict system of internal production control. Furthermore, the quality is evidenced by the certificates of the installed materials and the certificates of the manufacturer.
A prefabricated house typically consists of ecological, natural materials that are healthy and comfortable to live in. On the Slovenian market, majority of prefabricated houses are made of wood. Wood is a good thermal insulator, which leads to greater energy efficiency of the building. Non-combustible materials are used for insulation, which ensures fire safety of the building.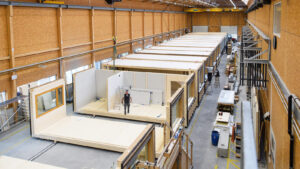 The ability to move in quickly is what convinces many to choose a prefabricated house. While classic construction usually takes more than a year, prefabricated houses can be occupied in a few months. The prefabricated house consists mainly of parts made in the production hall, only assembly is done at the location of your new home. It is a so-called dry construction method, which enables a quick occupancy of the house. At the same time, the construction of the prefabricated house is possible in all seasons.
Components made in production not only speed up and facilitate the construction of the house, but also ensure that there is less waste material, storage facilities and tools on the construction site. In this respect, the construction of a prefabricated house is cleaner and less burdensome on the environment.
When deciding on a classic or prefabricated house one of the factors taken into account is usually the price. We cannot simply say that a prefabricated house will be cheaper than a classic construction house, as this depends on several factors. However, the essential advantage of  prefabricated house is that the entire price is known in advance.
When it comes to prefabricated houses we have two options – we can decide to build a standard or individual prefabricated house. A typical house will generally be cheaper, and its construction will be faster. Minor adaptations of typical houses are also possible. In any event,  there are a lot of combinations of layouts, shapes and selection of materials, and the range is increasing year by year.
With the development of technology, prefabricated houses are becoming more and more high-quality and pleasant to live in.