The naturalistic garden is resistant, ecological, imitating nature. At best, it is self-sufficient or needs some minimal care, or as much as one wants to have in the garden. A garden that vibrates, lives and breathes with man and nature.
Designing and planting a resilient and organic home garden is a god-sent idea these days. At a time when we had to stay at home and had to stay in the surroundings of our home due to external adversities, we – who have a garden – came as a blessing. (Or a curse, especially if until now we've been moving and pretending that it's not completely messy:) ) However, this new naturalism as a trend arose more out of necessity and as a response to climate change and our increasingly insensitive behavior towards nature, and not like a new design fad. It arose as a need for recalibration. The need for a new definition of what a garden is and what it represents. How to take care of it and who or what can live in it.
A garden that is a training ground for the competition of whose pumpkin will be bigger, which tomatoes will be more tense and which roses will be more fragrant, is a garden that requires work, work, work, costs, tears, work. In the end, there is little of that satisfaction.
Does naturalistic design call for new rules of the game?
But – what if we didn't just think of a finish line (say, a large pumpkin), but the garden became a platform where we allowed an infinite number of life cycles to unfold on it, season after season?
Naturalism invites you to understand your garden holistically, cyclically, with ups and downs, all the changes that time brings.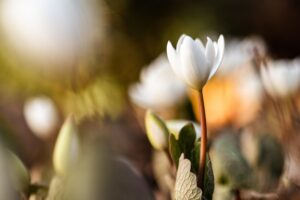 Everything starts with the soil
In other words, with good soil. The soil is alive, literally teeming with tens of thousands of species of protozoa, bacteria, fungi and viruses, often hundreds of species of arthropods, earthworms and small mammals. Organic material, which is created in the soil with the help of the life cycles of animals and plants, is of vital importance for the growth and development of plants.
Soil also affects plant productivity. In horticulture and agriculture, productivity is conditioned by how much crop the plant produces, and if we are only talking about productivity, then we must have soil that is fertile.
On the other hand, polycultures do not necessarily require fertile soil and thrive even in poorer conditions, which cause them more stress and therefore less competition between species. And as a result, there is also a greater diversity of plants – from perennials to annuals or biennials on the same lawn. In any case, caring for the health and balance of the soil is a gardener's priority.
If you want to make a good plan, observe your garden
The garden is full of opportunities. As I observe my garden, my question will always have to be:
What can be done here? – instead of What do I need to change here?
The difference is that opening up options is inviting. It takes some time and produces many sub-questions.
– What can I do here?
– What is the environment like here? Is there a lot of sun? Is it humid?
– Is it windy here? Is it an area that is not as exposed to frost in winter?
– Where can the birdhouses be? Where can I put the compost bin? Where will my pile be for the garden waste I need for the garden (mulch, wood chips, etc.)?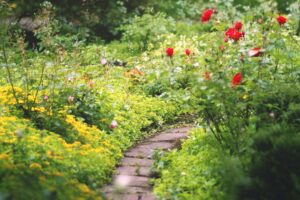 My experiences:
This year it happened that the snow broke off the upper quarter of the young birch. Two years ago I bought two birch trees, both 3.5 m high. I planted them on the bank, one next to the other, in between I planned a bench (since we have a rather steep bank, the bench is meant to be a vantage point that still focuses the view into the beautiful valley between the birch trees). One birch didn't stick at all, and the other was broken by wet and heavy snow two weeks ago. While it is still solvable, at least I hope so, I think the lesson is this: for our severely windy and exposed terrain, I need to choose plants that will defy the weather. Birch is a good choice, but I have to:
1. plant a small seedling and
2. fence off the roots with a net against voles.
Understanding the social life of plants
We do not grow monokulture in our gardens, so we can talk about the social life of plants. The more we know about plants, the more we will understand their character traits, for example how they tolerate the stress of weather extremes, what their whims are, what the dynamics of growth and flowering are… While this is easier to observe on an individual level, we must take the garden as a whole and look more broadly. And we soon see that nothing stays the same in the long run.
Plants in the same population rely on each other in communities and thrive under similar conditions, forming patterns and forms within these communities. Several different plant communities already form the local ecosystem. Plants are also connected to each other underground and communicate through roots, exchange nutrients, and communicate through mycorrhizae. And if we tear out one, we affect the others.