Staying in villas located on the outskirts of the urban settlement and surrounded by green areas, which offer the desired peace and at the same time all the comfort of urban living.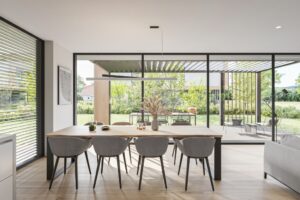 In the new settlement, the construction of four detached villas is planned, which are oriented in a southerly direction. The architectural design envisages a uniform appearance of all buildings and external arrangements, which will ensure a high standard of living culture and the permanent value of real estate.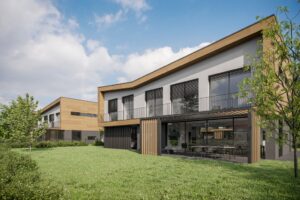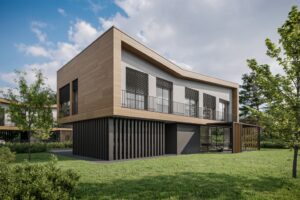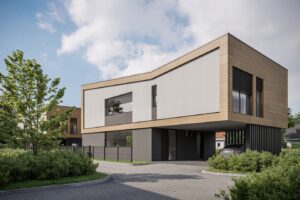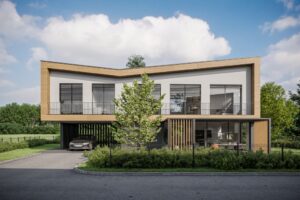 The residential villas will provide harmony and comfort as well as the desired intimacy of a stay in an exceptional location in the quiet neighbourhood of Latkova vas in the municipality of Prebold. The buildings are urbanistically and architecturally complemented by compliance with the morphology and architectural typology of the environment and are designed on two levels. Ground floor with living and service area and upper floor with sleeping area. Access to the floor is arranged with an internal staircase, and the possibility of installing an internal personal elevator is also planned. The design of the buildings offers energy efficiency and a high level of living comfort.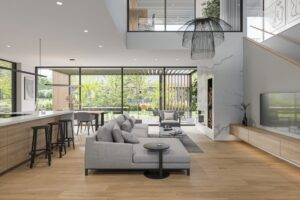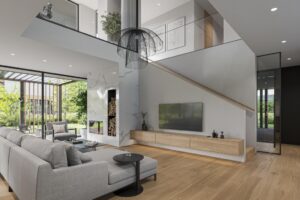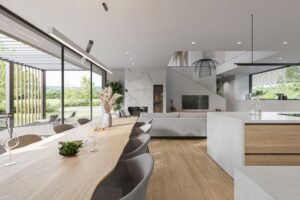 On the south side of each villa, there is space for an outdoor terrace that can be covered with a pergola and a spacious green area that allows the construction of an outdoor swimming pool. Each house has two parking spaces under the canopy. All associated outdoor areas will be fenced.
The villas are designed to be energy-efficient and meet the low-energy or passive A2 standard. At the same time, the rooms will also be well soundproofed in the interest of even greater living comfort.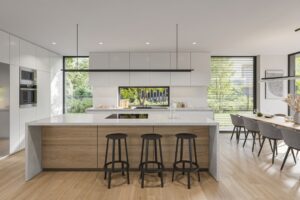 The carefully considered layout of the living spaces, which comprise 208 m2 of living space, are complemented by a carport of 58 m2, which in total comprises 266 m2 of usable space. The facilities are complemented by extremely beautiful surroundings with lots of green areas and outdoor terraces, from which the view of the Savinjsko hribovje to the south and west, and the Celje basin to the east.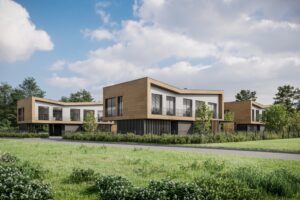 The villas are located in a beautiful environment, in the village of Latkova vas in the municipality of Prebold, which offers many diverse experiences in the embrace of nature.
The idyllic location where the facilities are located offers much needed privacy. The location is far from the hustle and bustle of the city, while the proximity of the urban environment offers many sports activities (walking, cycling, tennis, basketball, etc.) in a calm environment. It offers an excellent starting point for quick access to major transport links. The proximity of the Savinja River allows for pleasant walks along the riverbank. There is also a wide range of restaurants in the area.
The location of the facilities allows quick access to all basic needs and services and activities such as; kindergarten, primary school, shop, bank, pharmacy, medical services, bus connection and connection to the national road network.